May 17th, 2008 at 6:34pm |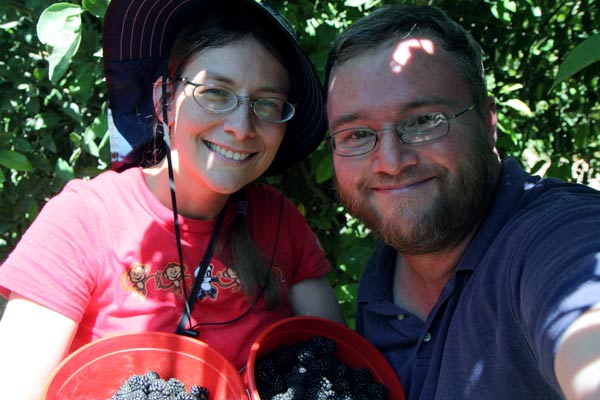 A few days ago John found out about a farm near Yuma, AZ, where folks can go pick their own blackberries for less than $4 per pound! And they don't count how much you eat while picking! Well, we couldn't eat that much because we were on a fast, but a few were sampled and they were sweet!
We got up at 4:45 AM so that we'd be there early because John had promised Sonal he'd watch the store from 4 PM to close. On the drive down there I started my first lace shawl, the swallowtail shawl (by Evelyn Clark from Interweave Knits Fall 2006). I tried this one last week but the needle I was using was too dull (one of my Denise interchangeables) so I bought new one at Fiber Factory and started over. I'm using Knit Picks Alpaca Cloud in smoke and so far it is working out well!
After our arrival at the Silvas Farm around 9:30 we set out to pick and ended up with over 16 pounds of berries. The picture above was taken when we were done and you can tell it got quite hot. We left around noon and where back in Phoenix by 3:30 PM. Berry season doesn't last very long, get more information at www.silvasfarms.com.