April 21st, 2008 at 10:36pm |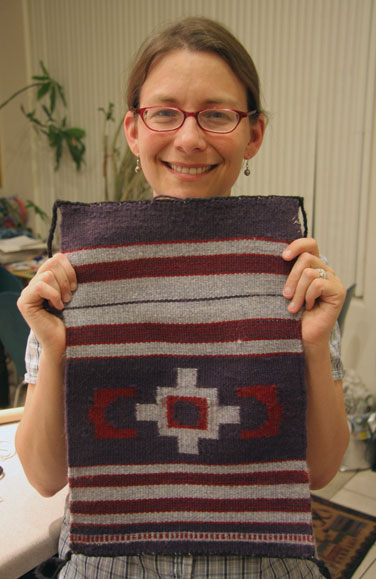 My fingertips are sore but the rug is done! Tonight was the moment when I clipped the strings that held my maiden Navajo rug to the training loom. The class (which I attended with my mom) started on March 4th and ended on April 8th. On that day I had about an inch of warp left to go. My mom had a tough time in the beginning but was able to finish before me. Mary Walker (of Weaving in Beauty) graciously met us at the Fiber Factory to help us take her rug off the loom which made me feel confident enough to snip mine off without assistance. 
 I'm looking forward to doing the whole thing again, only better, and with our own loom, in May when the next weaving class starts. John is taking this one as well. This time I will consider the pattern before I start and I'll use some of my "vintage" Brown Sheep worsted yarn that we bought at trading posts on the rez years ago.